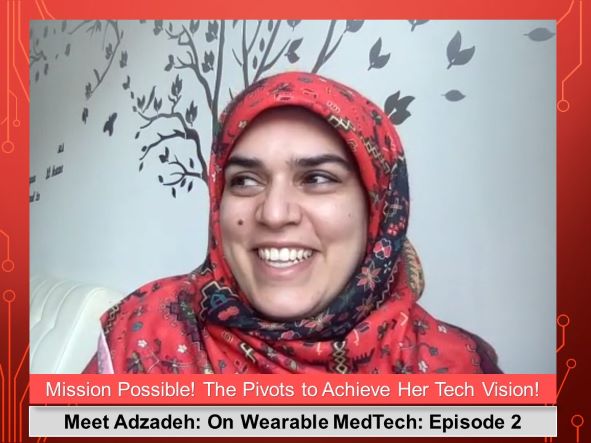 Now that people are gearing up to go back to "Near Normal", some are wondering about all the changes and challenges that face them – from hybrid work and learning to new skill challenges and what technologies they may need to adopt.
Meet Azadeh who has been going through such scenarios since she started her journey in developing a cuff-less blood pressure monitoring device.  In Episode 1 she shared her story about how her "Case for Cuff-Less  blood pressure (BP) Innovation" created the start of her mission. In this Episode 2, she shares her lessons and learnings –  invaluable for researchers, inventors, aspiring entrepreneurs who will or have done their share of pivots in their timeline to achieve their vision!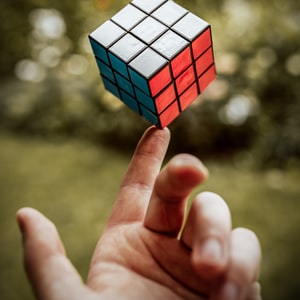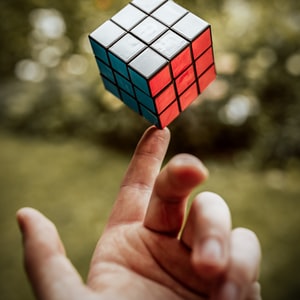 The timeline of her journey started with research – which first focused on the hardware, to discovering that software was the way to go, and then later having to pivot her bioengineering learning into self guided courses (and a tutor) on AI to better understand how to build her BP device.  During this time her journey took her from completing her Masters at U Ottawa, to continuing with her PhD – to discover that there were other real world challenges and barriers that blocked her pathway to pre-commercialization!  How did she overcome this?
Check out her story as it will resonate with many, and will enlighten others on how the accelerated advancement of technology, consumer expectations, and oligopoly barriers created barriers to her startup!
Stay tuned for Episode 3 – How a friend's suggestion took her forward to another pathway!
Founder's Blog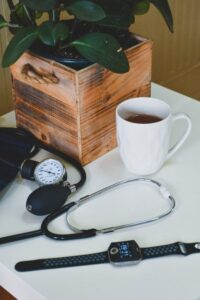 I'm originally from Iran, grew up in Dubai and took my bachelor's degree in biomedical Eng. At Ajman University (United Arab Emirates). It was a very comprehensive program for 5 years that taught us all about mechanical and electrical and computer engineering, besides biomedical. I always had a passion for building innovative devices and testing them with my younger brother. So, I came to Canada to continue my study and when I proposed my thesis for optical sensor signals (PPG) and using different machine learning, I had 0 knowledge at that time (2013). So, I started to read and attend online courses and got a tutor and finally defend my master thesis in 2014 as a proof of concept of this project. Then I continued the study with my supervisor and I'm still Ph.D. Candidate at U of Ottawa.
About Azadeh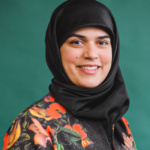 Azadeh Dastmalchi is the CEO of VitalTracer, a medical Startups that designs smart wearable medical devices. She is a Ph.D. candidate at Ottawa University, obtaining her MSc from the same university in Biomedical Engineering. In the last twelve years, her main field of research has been designing and developing medical devices, particularly vital signs monitoring ones and applied AI on bio-signals.
She is one of the top 25 women of INFLUENCE RECIPIENTS 2021, Student Entrepreneur National Champion in 2021, a Canadian G20 Young Entrepreneurs' Alliance, a skilled leader, entrepreneur, business Planner, and a successful project manager. Azadeh raised $1M non-dilutive grants since April 2019. VitalTracer has been awarded several regional and national awards under her leadership, including Mitacs national entrepreneur award, CANNIE regional award on innovation product, Startup Canada award, and AGE-WELL Emerging Entrepreneur Award (COVID-19 Countermeasures).
Experienced Research Assistant with a demonstrated history of working in the higher education industry. Skilled in leadership, entrepreneurship Business Planning, Data mining and project management. Strong research professional with a Doctor of Philosophy (Ph.D.) in Biomedical Engineering focused on Smart Wearable Medical Device with Machine Learning and Deep Learning and AI Algorithms
About Vital Tracer



Their mission is to reduce the risk of cardiovascular disease through constant and continuous monitoring of all vital signs.  Their product is revolutionizing the world of prevention and early diagnosis in the field of cardiovascular research.